The AEGIS® SGR shaft grounding ring protects the life of your motor bearings.
AEGIS® SGR shaft grounding systems prevent electrical bearing damage by channeling harmful shaft voltages away from the bearings and safely to ground.
Motors operated by variable frequency drives (VFD) are vulnerable to VFD-induced shaft voltages and bearing currents that can cause premature bearing failure.
Once these shaft voltages and high frequency currents overcome the resistance of the bearing lubricant, they discharge through the motor bearings, burning bearing grease.
These discharges could also cause pitting, fluting damage to the motor's bearings and eventual bearing failure.
Using Electron Transport Technology®, the conductive microfibers within AEGIS® SGR provide the path of least resistance and significantly increase engine life.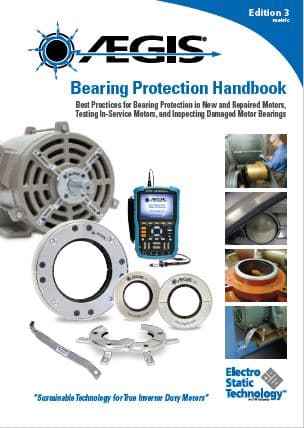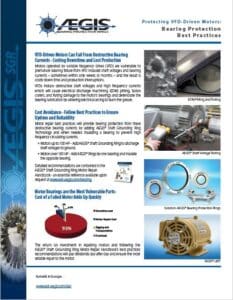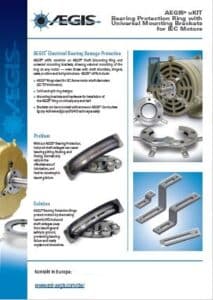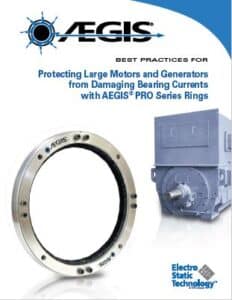 Save your bearings with AEGIS® SGR shaft grounding.
With more than 30 years of experience in topics such as AEGIS® SGR shaft grounding, shaft earthing, bearing protection and many other topics, D.E. Marl Industrievertretungen ensures trouble-free solutions for our satisfied customers from industry, trade, shipping or wind power.
In addition to high-quality shaft earthing rings, we also offer more than 3,000 specialized products for power transmission, sensor technology, electronics and much more. The exceptionally high quality of these special products is perfectly complemented by our well-known expertise, comprehensive service, absolute speed and maximum reliability.
We offer a multitude of decisive advantages to industrial companies of all kinds, so that productivity can be effectively increased in everyday work: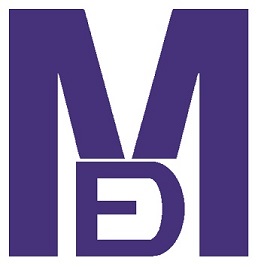 D.E. Marl Industrievertretungen
Schulstr. 21
D -24558 Henstedt-Ulzburg
Tel. +49 (0) 4193 – 754 688
Fax +49 (0) 4193 – 754 689