Thermal protectors / Bimetallic switches
Bimetallic switches as inexpensive and powerful thermal protectors
The thermal protectors or bimetallic switches are used for automatic temperature monitoring and are embedded in the winding heads of the motors.
In contrast to the PTC thermistors, bimetallic switches do not need a monitoring relay. They limit the heating of equipment or parts and reset themselves again automatically after cooling.
The bimetallic disc in the switches snaps abruptly from its convex to the concave state when temperature increases to a maximum permitted value. The contact is moved away vertically from the contact plate. The contact is now open (type S01 / S06). With NO- contact (normally open – type S08), the previously opened contact closes and activates a current circuit. Thus, e.g. signalers are switched on. Only after significant cooling does the bimetal disc automatically return to its original position.

Bimetallic switch Type S06 (Opener)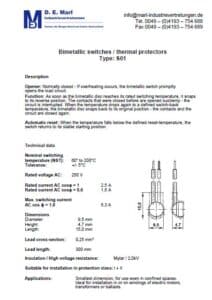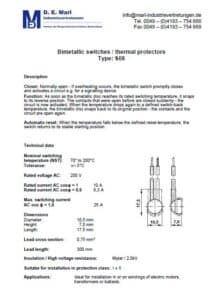 Buy bimetallic switches for thermal protection.
All thermal protectors are state-of-the-art in terms of construction, material and functionality. The protectors are ideal for installation in or on the windings of electric motors. When space is limited, their small dimension is one of their major advantages without any restrictions in terms of functionality, quality and reliability.
Just get in contact with us if you are looking for the optimal and quick solution for topics such as thermal protectors or bimetallic switches. Because with us you get: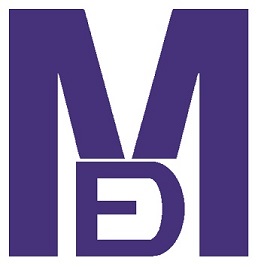 D.E. Marl Industrievertretungen
Schulstr. 21
D -24558 Henstedt-Ulzburg
Tel. +49 (0) 4193 – 754 688
Fax +49 (0) 4193 – 754 689