If there is a need for accurate temperature monitoring, your choice could be a PT100 sensor.
The PT100 platinum sensor is a temperature-dependent sensor element. As the temperature rises, so does the resistance of the PT100 sensor (100 Ω at 0 ° C according to DIN EN 60751).
PT100 platinum sensors are characterized by a high level of accuracy, short response time and long-term stability, as well as being able to be used in a wide temperature range. They have an almost linear temperature/resistance relationship which provides a very accurate measurement result.
The PT100 sensors are mainly used for thermal control of the winding of electrical machines and are universally applicable, wherever an exact temperature control is necessary.
Our PT100 sensors are available in 2-, 3- or 4-wire circuitry and in a variety of different configurations.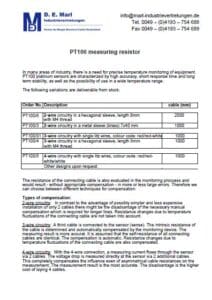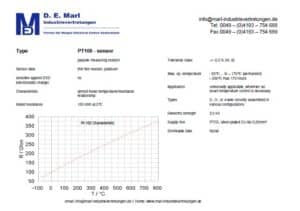 Get in contact with us today!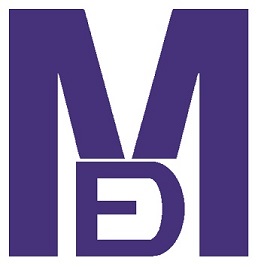 D.E. Marl Industrievertretungen
Schulstr. 21
D -24558 Henstedt-Ulzburg
Tel. +49 (0) 4193 – 754 688
Fax +49 (0) 4193 – 754 689