PTC sensors - effective motor protection in the industry
PTC sensors are temperature-dependent resistors that are used in combination with corresponding PTC monitoring devices for motor protection.
The resistance of the PTC sensors rises when heated and reaches a high-impedance state at a certain temperature (NAT). At this value, the PTC-resistor relay trips and a warning signal or the like can be switched to prevent overheating of the motor.
Every single PTC thermistor supplied by D.E. Marl Industrievertretungen is characterized by an extremely high quality and meets all requirements for highly effective use in a wide variety of areas of industry: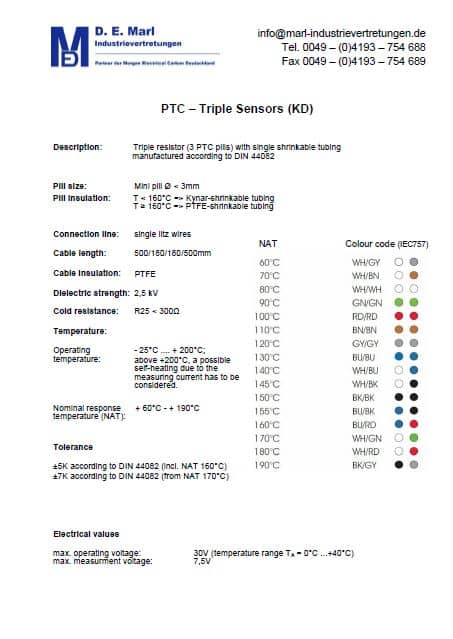 The optimal PTC sensor for all specific areas of application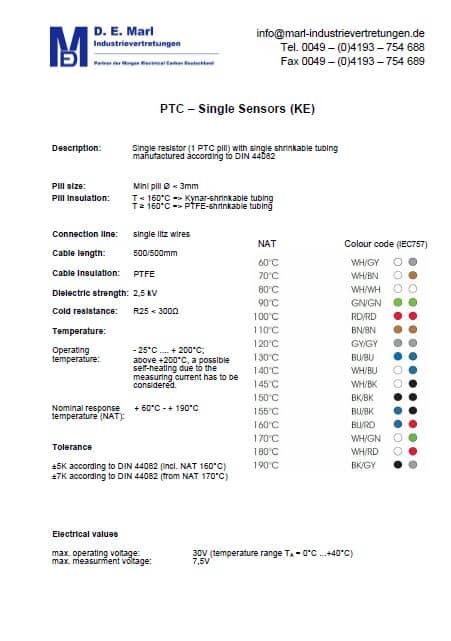 PTC thermistors are mostly temperature-dependent semiconductor resistors made of polycrystalline ceramic. If ceramic normally has insulating properties, the characteristic curve is achieved by special doping of barium titanate ceramic with other substances.

During the manufacturing process, this ceramic is shaped into a small, soft-solderable pill to which a lead is attached.
The conductivity of these high-quality products increases with increasing temperature, as they have a positive temperature coefficient (PTC). The result: As the temperature rises, the electrical resistance increases!
Convince yourself of our more than 30 years of experience and benefit from our services and offers: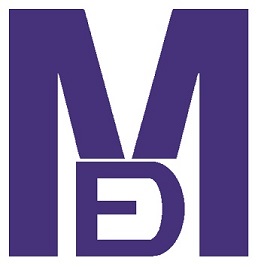 D.E. Marl Industrievertretungen
Schulstr. 21
D -24558 Henstedt-Ulzburg
Tel. +49 (0) 4193 – 754 688
Fax +49 (0) 4193 – 754 689