High-quality motor run-, starter- and suppressor capacitors
A capacitor is an electrical component that stores electrical charge and therefore electrical energy. Capacitors are used in many electrical installations and in almost all electrical and electronic equipment.
We stock motor capacitors that are used on single-phase motors or on three-phase motors supplied as single phase.
Single-phase and three-phase motors require a capacitor for the start-up phase, which generates a current creating a rotating magnetic field. They are disconnected at the end of the starting phase to avoid overload for the motor winding. Motor capacitors can also be used in continuous operation. As a result, the magnetic field is constantly maintained and the inductive charge of the motor is compensated. On three-phase motors supplied as single phase, the capacitor ensures the presence of the third phase.

We can supply you with:
They are used on the single-phase motor or on the three-phase motor, which is operated on the single- phase network.
Motor run capacitors are used to improve the power factor of a motor when it has reached its rated output.
These capacitors are constantly connected to the motor winding (COMAR: MK / MKA series).
They are used on single-phase motors with auxiliary phase when high torque is required.
These capacitors may only be switched on briefly during the startup process.
When the speed is reached, they are switched off by centrifugal switches or electronic start-up relays (COMAR: Series EL).
They are used in electrical or electronic devices to reduce electromagnetic interference that negatively affects radio reception.
As a highly specialized partner of the industry, D.E. Marl Industrievertretungen always has a very large range of motor capacitors in a wide variety of designs directly on stock.
This means that when you order, you will receive the items you need in the shortest possible time. Normally, products in on stock are shipped the same day!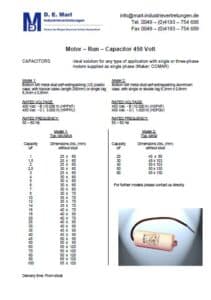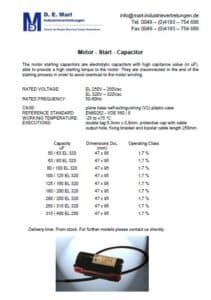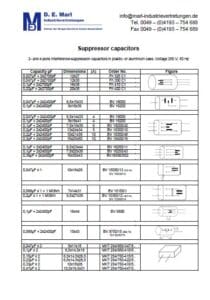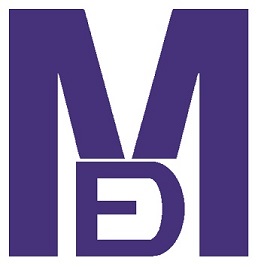 D.E. Marl Industrievertretungen
Schulstr. 21
D -24558 Henstedt-Ulzburg
Tel. +49 (0) 4193 – 754 688
Fax +49 (0) 4193 – 754 689