Motor terminal board: So that your machinery run smoothly.
Motor terminal boards are of crucial importance in machines and systems, as they represent the basis for the functional cabling of the individual areas of electrical machines.
This is the reason why every motor terminal board available from us comes from well-known, specialized German or European manufacturers and has been quality-checked before delivery.
We supply motor terminal boards of various designs (2- pole, 4-pole, 6-pole, 9-pole, explosion-proof). Please ask us for the types you require.
Generally we deliver our motor terminal boards completely assembled, that is with nuts, washers and links, but on request also without equipment.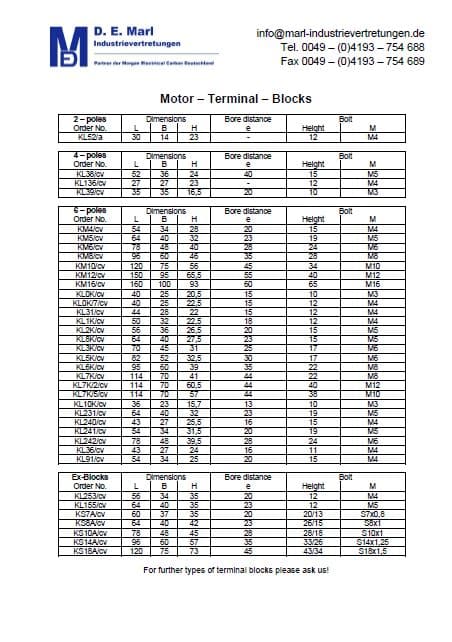 The right motor terminal board for each application.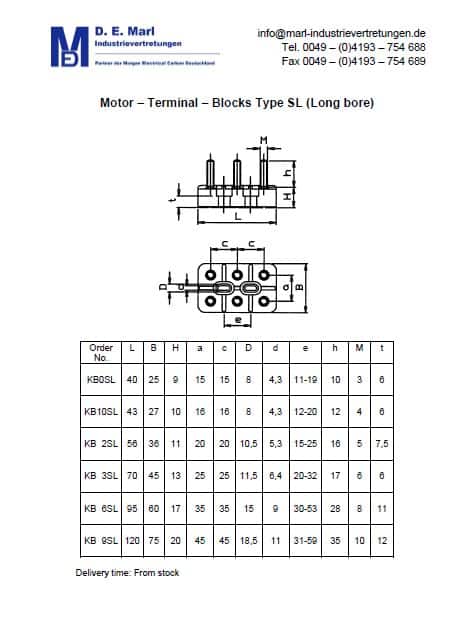 Motor terminal boards (long bore)
You too can benefit from the high quality of our products and our personal advice.
We offer you the optimal motor terminal board, precisely tailored to all factors relevant in your machinery – whether 3-pole, 6-pole or 9-pole, Ex-terminal boards (ATEX), steatite terminal boards or insulators with all the necessary accessories such as bolts (brass or copper), nuts, washers and links!
We want your company to be able to secure the decisive competitive advantages with our support.
Simply contact us so that we can find the optimal solution for your systems and motors.
In addition to the large range and quick availability of all products, the D.E. Marl Industrievertretungen has made a name for itself as a competent partner of the industry for more than 30 years with various services: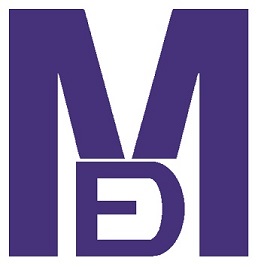 D.E. Marl Industrievertretungen
Schulstr. 21
D -24558 Henstedt-Ulzburg
Tel. +49 (0) 4193 – 754 688
Fax +49 (0) 4193 – 754 689