Holders, telescopic-holders and inserts for electromagnetic clutches.
We have a large stock of holders and replacement brushes. The inserts are made of copper graphite when used for dry application or of special metal mesh for application in oil.
You will also find the most common types of ZF telescopic holders and inserts in stock.
Thanks to our large inventory of brush holders and inserts, we can provide you with all common products of this kind and a large selection of ZF types in the earliest time: Most of them can be shipped the same day!
Various combinations are possible for the clutches: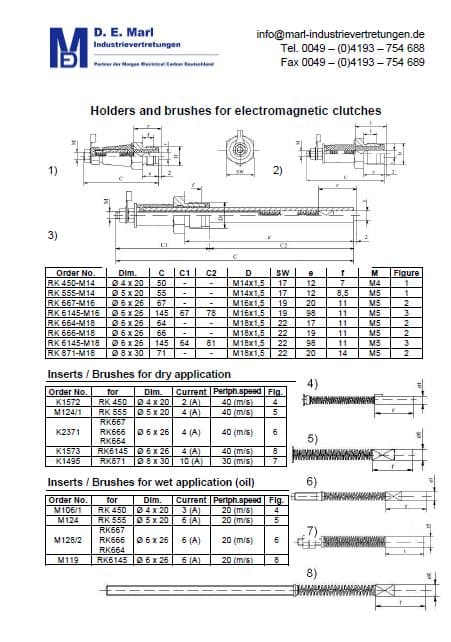 Holders and inserts (standard types)
High-quality holders and inserts for tough everyday industrial life.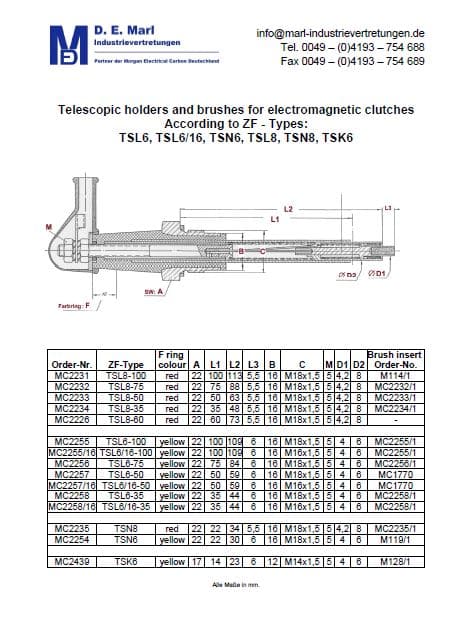 Holders and inserts (telescopic types)
While for dry applications one holder per slipring is sufficient, it is different with in-oil applications. In that case, there is a constant risk that the sliprings get in contact with too much oil. This oil film then interrupts the power supply, which understandably has serious negative consequences.
To avoid this susceptibility to failure, two holders should be installed one behind the other at a rotation speed of more than 18m / s. Additionally, it is important that the holders are attached in a way that they are free of vibrations.
Also, in order to achieve the desired brush pressure, a minimum distance of mostly two millimeters should be maintained between the installed brush holder insert and the slipring.
Of course, the specialist staff of D.E. Marl Industrievertretungen will be happy to advise you in detail so that you receive the optimal power supply for your application.
In addition to the usual high quality, you will also receive a comprehensive service from us: We will find the right solution for you when it comes to holders and inserts for your electromagnetic clutches, holders and inserts suitable for ZF types or other very specific requirements.
It doesn't matter whether you need large quantities or individually manufactured one-offs.
Simply contact us and we will do our best to help you with:
Standard and telescopic brush holder types for electromagnetic clutches
Copper-graphite brush inserts for dry applications
Metal mesh brush inserts for applications in oil
Inserts and telescopic-holders for ZF-clutches.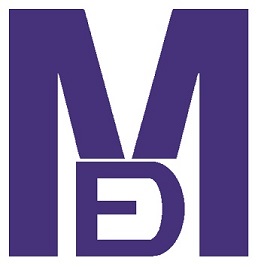 D.E. Marl Industrievertretungen
Schulstr. 21
D -24558 Henstedt-Ulzburg
Tel. +49 (0) 4193 – 754 688
Fax +49 (0) 4193 – 754 689